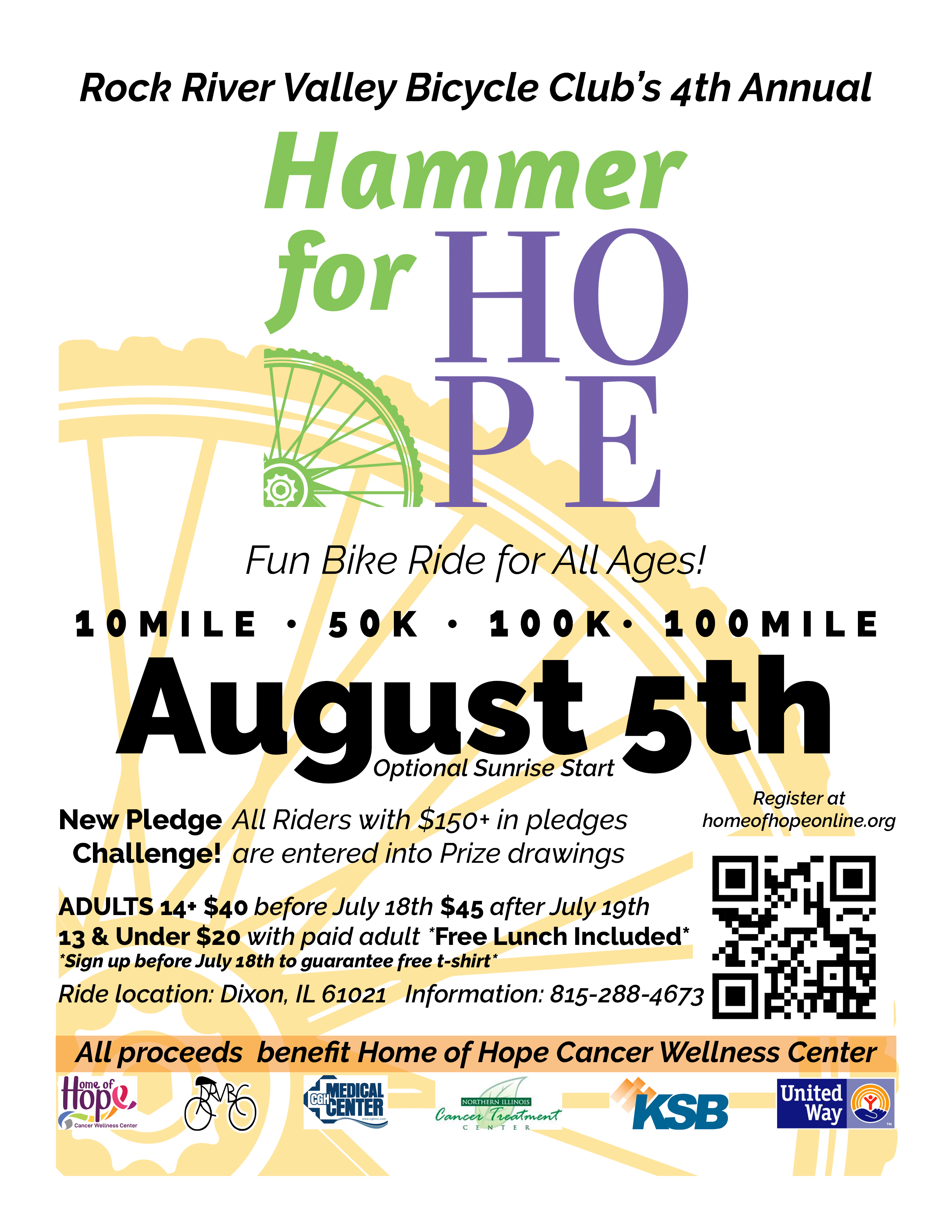 10 mi/50K/100K/100 mi
SAG Supported with rest and hydration stops
Join us on August 5th for the 4th annual Hammer for Hope bike ride hosted by Rock River Valley Bicycle Club! Pedal your way through 50k, 100k, or 100-mile routes, or enjoy a leisurely 10-mile family ride. Every entry supports Home of Hope Cancer Wellness Center in their mission to help those affected by cancer.
This year, we're spicing things up with a pledge challenge. Complete your pledge sheet and you'll be entered into a drawing to win one of our amazing prize baskets, including the grand prize of 4 White Sox tickets and a $50 gas card! We'll even send you pledge forms by mail and offer additional entries for every completed form. Want to get started right away? Download pledge sheets from our website at homeofhopeonline.org.
Adult entries are just $40 before July 18th and $45 afterwards, with kids 13 and under only $20 with a paid adult. Plus, every registration includes a free lunch and a guaranteed t-shirt for those who sign up before July 18th. All races have an optional sunrise start time and begin at Northern Illinois Treatment Center in Dixon, IL. In the unlikely event of cancellation due to inclement weather, your donation will still support vital cancer programs and services.
Route Links:
10 mile: https://ridewithgps.com/routes/36875593
50K: https://ridewithgps.com/routes/40231926
100K: https://ridewithgps.com/routes/40231798
100 mile: https://ridewithgps.com/routes/40231893
Thank you for supporting Home of Hope Cancer Wellness Center! For more information, call us at 815-288-4673 or email [email protected]. Let's ride for a good cause!